ParentalRights Goes to Harrisburg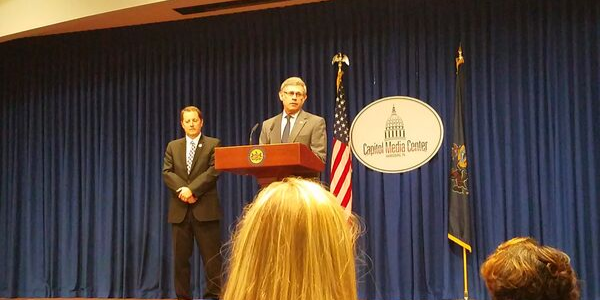 Photo credit: Parentalrights.org. Reps. Jim Cox (left) and David Zimmerman address concerned parents, children, and members of the press before the Parents Know Best Rally in Harrisburg September 24, 2019.
ParentalRights.org of Pennsylvania on Tuesday hosted the Parents Know Best Rally, their first gathering to support HB 508 at the Capitol in Harrisburg.
Led by State Coordinator (and ParentalRights.org board member) Vickie Suarez, the PRO of PA team also partnered with American Family Association of Pennsylvania and the Christian Homeschool Association of Pennsylvania (CHAP) to organize the event.
ParentalRights.org Contact Coordinator Cory Gibbons and I were on hand for the day's activities.
Broad Diversity, One Voice
Speakers for the day included Suarez, Diane Gramley of AFA of Pennsylvania, Philadelphia Councilman David Oh, Robert McClellan (M.D.), Homeschool Legal Defense Association attorney Dan Beasley, homeschool activist Maryalice Newborn, and ParentalRights.org board chairman Ethan Demme. Several parents also spoke of their experiences with "the system" that has invaded their families, including six moms who came our from Philadelphia to share their heart-wrenching accounts.
Councilman Oh has been making headlines of his own for taking a stand for child welfare reform in his city.
Rep. Jim Cox, lead sponsor of HB 508 (The Parental Rights Protection Act), and Rep. David Zimmerman also spoke to the gathered crowd of concerned parents and children. Both are strong supporters of parental rights and spoke of the important role parents play in their children's lives.
"It's been a slow erosion," Cox cautioned, "and we're not going to get it back overnight. But I believe this [HB 508] is an important first step."
Attendees could have been divided into conservative, rural parents concerned with their right to homeschool and make medical decisions for their children, and urban minority moms who have had run-ins with the state's Depart of Children and Youth Services.
Only, they weren't. No, this crowd was not divided at all, but were of one mind and voice: Parents Know Best.
Parents the Experts
"Who understand children better than parents themselves?" Rep. Zimmerman asked rhetorically in his opening remarks. Ethan Demme provided the answer a few minutes later from federal data and statistics.
Studies show, Demme explained, that to become an expert in something takes roughly 10,000 hours. And the average parent spends 16,000 hours on their child by the time the child is six years old—more than enough time to become an expert. By contrast, it would take a school teacher, who focusses on that same child for six hours every school day, seventeen years to reach the level of knowledge of that child the parents have achieved by the child's sixth year.
HSLDA attorney Dan Beasley echoed that sentiment based on studies of home schooled children's academic excellence. He summed up his findings succinctly: "If we empower parents, children benefit."
Yet the state looks to other "experts" for how children should be raised, discounting the invaluable knowledge parents hold.
Sadly, that's the experience other parents were on hand to share.
Mothers with Stories to Tell
Several of the Philadelphia mothers explained that they and their children were victims of Judge Lyris Younge, a discredited Philadelphia judge recently suspended by the state's judicial authorities. Her removal came in response to a 68-page complaint accusing her of "routinely and improperly jailing parents in child custody matters and stripping them of access to their children without giving them adequate opportunity to plead their case," according to an August article in the Philadelphia Inquirer.
An historically large percentage of Younge's cases have been overturned on appeal, but the mothers at our rally have not yet received  justice by that means. Their families, and their hearts, remain broken by the system.
One grandmother shared through tears how a child services supervisor allegedly lied in court, presenting her granddaughter's rapist as the girl's father and helping him secure custody of the child he had abused. The little girl was five years old.
The abuse would not have happened if the child had been left in the care of her grandmother, who was already filling the parenting role in her life.
More to Come
The rally was well attended for being the first of its kind, though other issues drew larger crowds on what proved to be an especially busy day in the capital. But this was our first attempt, and we hope to raise larger support for similar efforts in the future.
"The opposition is not going to quit," Rep. Zimmerman stressed in his early remarks. So we can't afford to stop, either.
As an observer, I am proud of our team of volunteers and allies, and what they were able to accomplish. The content and quality of the event were excellent, and helped draw attention to parental rights concerns.
More than one person in attendance at the Capitol for other issues stopped to ask for more information on our cause.
So keep an eye out for more such events in the future, in Pennsylvania and elsewhere, as we continue to draw attention to the plight of families and the need to preserve parental rights. And thank you for standing with us in this and every endeavor as we strive to protect children by empowering parents together.
Sincerely,
Michael Ramey
Executive Director