The Parents Know Best Rally is Just Around the Corner!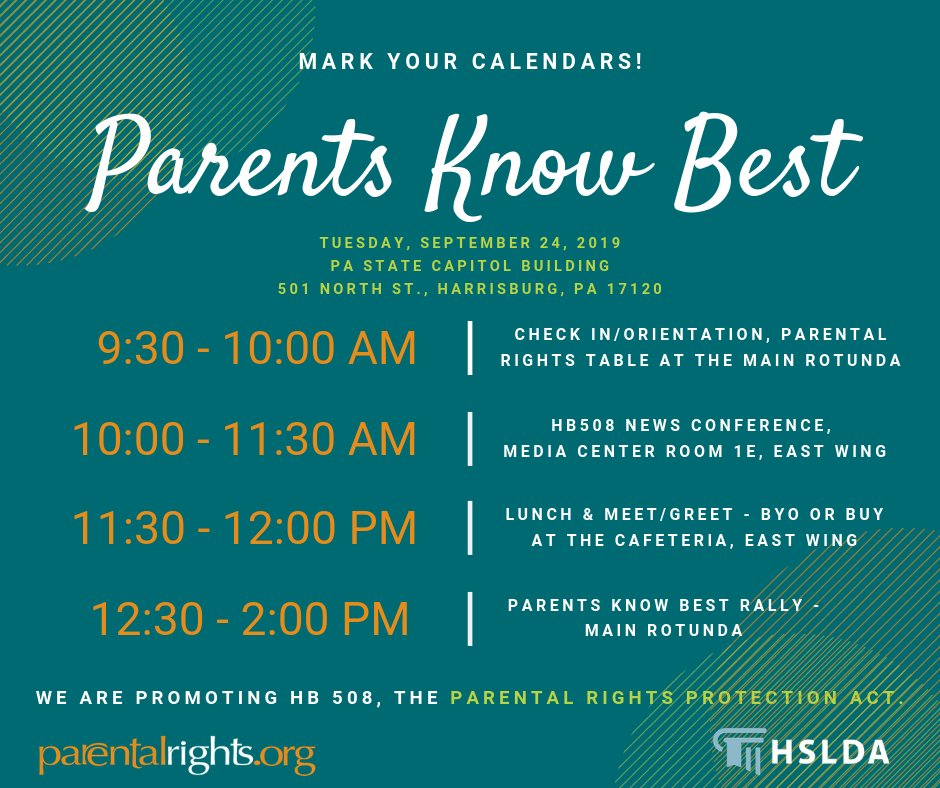 Mark your calendars! On September 24th, Parentalrights.org Pennsylvania is hosting the Parents Know Best Rally in Harrisburg, PA.
We're organizing this event to promote the passing of Pennsylvania House Bill 508, the Parental Rights Protection Act. This legislation is sponsored by Rep. Jim Cox. The rally will take place at the Capitol Building in Harrisburg.
Here is the schedule for our day:
9:30 AM – 10 AM: Check in and Orientation
10:00 AM – 11 AM: HB508 News Conference
11:30 AM – 12:30 PM: Lunch Break and Meet and Greet
12:30 PM – 2 PM: Parents Know Best Rally
We'll hear from knowledgeable parents and legislators at the news conference and the rally, including Councilman Oh of the Philadelphia City Councilman; Ethan Demme, member of the PRO board and foster dad; Daniel Beasley, HSLDA attorney; Robert McClelland, MD; Diane Gramley, AFA/PA; Maryalice Newborn, homeschool activist; Representative Jim Cox, prime sponsor of HB 508 (the Parental Rights Protection Act); Representative Gillen, co-sponsor of HB 508; Denise Phillips, foster mom; and Vickie Suarez, PRO board member.
The Harrisburg Capitol Building is located at 501 North Third Street, Harrisburg, PA 17120. Parking is available. 
You can support the event and get a great-looking t-shirt to wear to the event right here.
Please register for the event through the CHAP site, even if you are not attending the CHAP portion of the event, so we can prepare enough lobbying packets for everyone. (CHAP graciously approves of this use of their registration process.)
To find out more, contact Cory Gibbons at cory@parentalrights.org.
We look forward to seeing there!
Sincerely,
Michael Ramey
Executive Director