Our Incredible Parent Volunteers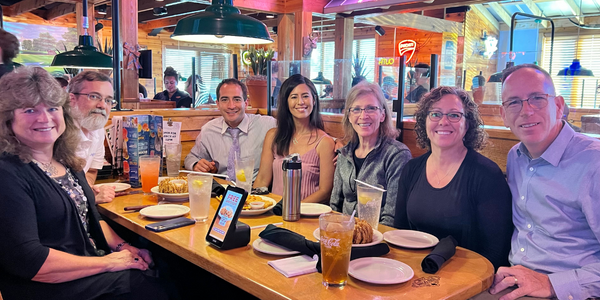 I'm just going to put this out there: our volunteers are some of the greatest human beings on the planet!
A couple of weeks ago, ParentalRights.org president Will Estrada and I found ourselves in the same place as a few of our state coordinators and got to sit down with them. We talked (in person!) about our legislative efforts of the past year and how we'd like to proceed in 2023. We also discussed next steps in introducing the Parental Rights Amendment to the US Constitution in Congress.
As exciting as that conversation was, though, what really struck me was just how blessed we are to get to work with such amazing people for the cause of parental rights.
Parental Rights Champions
I'm talking about champions like Paulette Brack of Michigan, who first started working with nonprofits (and with our founding president, Michael Farris) in the 1980s—well before ParentalRights.org was founded in 2007!
Or Barb Heki of Iowa, who has been leading the charge in her state for more than 10 years, and who is right now in the middle of negotiating with lawmakers the best way to bring a fundamental parental rights law to the Hawkeye State in 2023.
Or Jim and Patti Sullivan, who successfully steered a Parent's Bill of Rights through Florida's legislature in 2021 and yet are just getting started. (You can hear Patti talk about her experience in this episode of our EPPiC Broadcast podcast.)
In fact, getting to sit down with them was so encouraging, we've begun serious talks about hosting a training event for state leaders, hopefully in the coming months. It has been several years since our last one, and it's time to "get the band back together."
But in all this, there is still something missing—and it might just be you.
An Invitation
The reason that ParentalRights.org has been able to do so much good through the years is because of our passionate ParentalRights.org volunteers who do so much of the on-the-ground work to defend families, empower parents, and protect children. It is reader-supporters just like you who one day rise to the call and decide to see what they can do to bring parental rights protection to their state.
With the rise of many volunteer parent grassroots groups in the past two years, we have more organizations to partner with than ever before. And that creates opportunities for ParentalRights.org volunteers to coordinate with these partners and with lawmakers to make great strides for parental rights, wherever you happen to live.
So here's my invitation to you today: If you would be interested in pursuing parental rights efforts in your state (especially toward passing state legislation to protect families), send an email to Michael@parentalrights.org and put "2022 Volunteer" in the subject line. If your state already has a coordinator, I will connect you with them. And if not, we can talk about whether you might be the right person for that role.
(One word of caution: If you are in the middle of a family crisis right now, I will urge you to focus on your family and get that resolved first. We don't want to take your energy away from that; it wouldn't be the best thing for you, your family, or the organization.)
There is something Paulette, Barb, Patti, and Jim all have in common: there was once a time when they had never done anything like this before. Just like you. But then they stepped up and volunteered. I honestly can't imagine where ParentalRights.org would be today without them.
So, carefully consider if you'd like to join us, and send me an email to let me know. I look forward to hearing from you soon!
And if you don't have the time to volunteer, perhaps you have the financial ability to help support our parent volunteers. You can contribute to ParentalRights.org and our efforts to pass legislation. Or, make a tax-deductible donation to the Parental Rights Foundation to fund efforts like our in-person volunteer training event coming in the next few months.
Sincerely,
Michael Ramey
Executive Director