The Parents Know Best Rally is Coming Up in PA!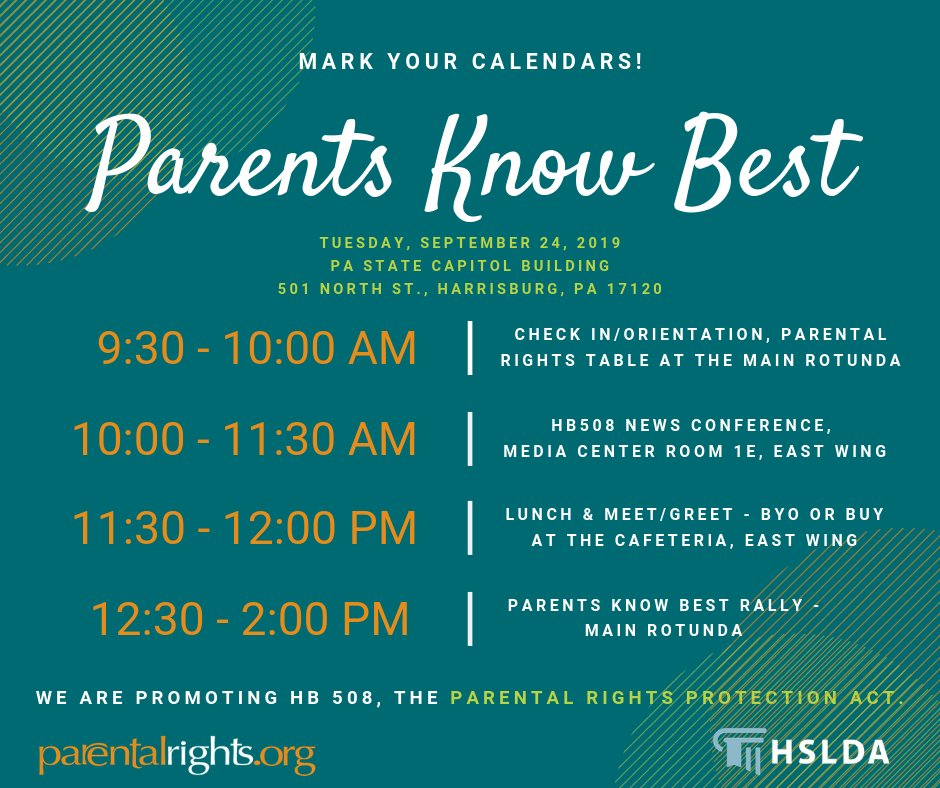 Mark your calendars! On September 24th, Parentalrights.org Pennsylvania is hosting the Parents Know Best Rally in Harrisburg, PA.
We're organizing this event to promote the passing of Pennsylvania House Bill 508, the Parental Rights Protection Act. This legislation is sponsored by Rep. Jim Cox. The rally will take place at the Capitol Building in Harrisburg.
Here is the schedule for our day:
9:30 AM – 10 AM: Check in and Orientation
10 AM – 11 AM: HB508 News Conference
11:30 AM – 12:30 PM: Lunch Break and Meet and Greet
12:30 PM – 2 PM: Parents Know Best Rally
Knowledgeable parents and legislators will address the need for this legislation at the news conference and the rally, including Diane Gramley of AFA-PA, Daniel Beasley of HSLDA, and Philadelphia Councilman David Oh. The Harrisburg Capitol Building is located at 501 North Third Street, Harrisburg, PA 17120. Parking is available. 
For those who are interested, the Christian Homeschooling Association of Pennsylvania (CHAP) will host a meeting from 8:30-9:30 about homeschooling in PA. Speakers will include Rep. Mark Gillen, Daniel Beasley, and Brad Bastedo (Bucks County lawyer and CHAP Board member).
To find out more, contact Cory Gibbons at cory@parentalrights.org. We hope to see you there!
Sincerely,
Michael Ramey
Executive Director